Yu-Gi-Oh! VIP Qualifier
When:
03/01/2020 @ 1:00 pm
2020-03-01T13:00:00-05:00
2020-03-01T13:15:00-05:00
Where:
Cool Stuff Games South Orlando
12720 S.OBT Suite 10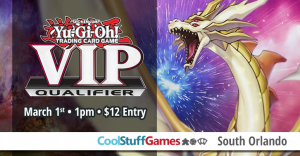 Date: March 1st, 2020
Registration: 12pm
Player Meeting: 1pm
Entry: $12 (each participant will receive 3 YGO booster packs)
Format: Tier 2 Advanced – Swiss Rounds based on attendance with a Cut to Top 8 Playoff. Deck lists are required.
Prizes:
1st Place after final Round of Swiss: Battle City Game Mat
1st Place after final Single Elimination Round: Invite to the next YCS (Yu-Gi-Oh! Championship Series in Charlotte, NC on March 28-29 2-3, 2020) with VIP Package*.
2nd-4th Place: Battle City Token Cards, with 2nd Place picking first, followed by 3rd Place, then 4th Place.
The Duelist to have shown the best Sportsmanship during the tournament will receive the "Battle City Logo" Token Card (Card # TKN4-EN014).
*VIP Package includes:
Free Entry into the YCS
-Must be the YCS in which the YCS VIP Qualifier is qualifying for
Prize is non‐transferable
-Duelist will receive all YCS participation prizes they would be eligible for with regular paid
entry (Tokens, Participation Packs, etc.), if applicable
-Two‐Round BYE in the YCS
Player will start the tournament in Round 3 with a 2‐0 record (2 Wins and 0 Losses)
-Assigned Seating throughout the course of the YCS Main Event in the VIP Section
-Brief Player Profile on the YCS Coverage Site, https://yugiohblog.konami.com/
Profile will also include the name of the OTS in which the player earned the VIP invite