Pokemon Astral Radiance UNSANCTIONED PLAY Prerelease Event!
When:
05/16/2022 @ 12:00 am – 8:00 pm
2022-05-16T00:00:00-04:00
2022-05-16T20:00:00-04:00
Where:
Cool Stuff Games - South Orlando
7671 South Orange Blossom Trail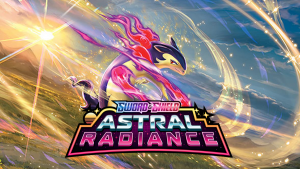 Pokemon Trainers!
Join us for this UNSANCTIONED PLAY prerelease event!
Event Date: Monday May 16, 2022
Event Start Time: 7pm
Entry Fee: $25
Player Capacity: 30
Event information:
-This is a sealed format tournament that will consist of 3 – 20 minute rounds, swiss style.
-Each participant will be given a prerelease kit which consist of 4 Sword & Shield Astral Radiance booster packs, 1 of 4 alternate art promo cards, and a 23 card evolution pack – featuring key cards from current and prior sets to build a deck of 40 cards. (Energies will be provided for you)
-Deck construction time may vary from 20-30 minutes.
-The standard 6 prize cards is reduced to 4 in this format.
-Each participant will receive 3 more booster packs upon completion of the 3 round event as rewards.
(Not participating or leaving/dropping early and you will forfeit these 3 packs.)
Seating and participation will be limited to 30 spots total for the day. Registration will be based off of a FIRST COME, FIRST SERVE basis. You must be present to register and pay! Phone calls and holds for friends that are en route will also not be accepted.