Magic: The Gathering – Dominaria Remastered Preview Drafts
When:
01/06/2023 @ 3:00 pm – 7:00 pm
2023-01-06T15:00:00-05:00
2023-01-06T19:00:00-05:00
Where:
Cool Stuff Games - Maitland
8550 S. US Highway 17-92 Maitland FL
32751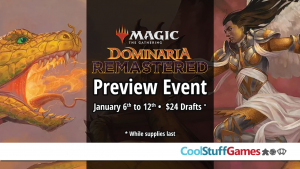 Join us for the Dominaria Remastered Preview Drafts occuring from Friday January 6th – Thursday January 12th!
Entry : $24 per person
Single elimination drafts with a payout of 6/6 packs split for top 2 or playout for 8/4 packs prizing.
*Drafts require 8 players to begin, can be on demand, must be fired 3 hours prior to store closing.
*Product is while supplies last.