Magic: The Gathering – Commander League – August
When:
07/30/2022 @ 3:00 pm – 7:00 pm
2022-07-30T15:00:00-04:00
2022-07-30T19:00:00-04:00
Where:
Cool Stuff Games - Hollywood
6867 Taft St
Hollywood
FL 33024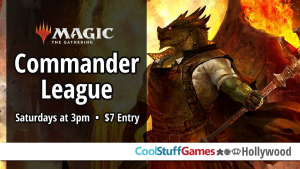 Calling all Planeswalkers!
Join us every Saturday for our fun and friendly Commander League. Each week players will be matched into a pod where they will battle to earn points. At the end of the month the 8 players with the most points will be prized.
Each Participant will receive a set booster pack upon entry.* We will also raffling off Promo Packs during the event!
*Wizards account required for Registration*
*Magic: The Gathering Companion App is requested*
*Only set boosters in standard rotation, exclusions can apply*
*Promos & Promo Packs while supplies lasts*
Entry Fee: $7
Registration Starts: 2:00 PM
Registration Ends: 2:55 PM
Gameplay Starts: 3:00 PM
Format: Commander Constructed
Tournament Structure: One Round of Pod Play for the day
Minimum Players to Launch the Tournament: 8 *Please Note: 32 Player Cap*
Prize Support: 1 set booster added per entry to the prize pool at the end of the month. The 8 players with the most points will be prized. Prizes will be split between the 8 players.
Additional Information: The $7 entry fee only applies to one game for that week, every additional week played will be another $7 entry. This gives everyone a chance to earn points up to 4-5 times a month.
Example Prizing: 32 Entries (This is 8 players participatining 4 times in the month every weekend. 4 set booster packs to each of the top 8.
Point System
Point Conditions
Cast your commander from the Command Zone for the third time in one game.
Control 10 or more lands.
Eliminate an opponent. (1)
First Blood from a non-commander creature. (2)
Directly prevent an opponent from losing the game from anything another opponent controls.(3)
Penalties
Eliminate a player or win the game before any player's fifth turn.
For each loop you repeat after the second iteration in a turn.
Each consecutive extra turn you take after the first extra turn you take in a turn cycle.
Destroy, sacrifice, exile, gain control of, or return a land to its owner's hand beyond the 4th.(4)
Eliminate any or all players simultaneously, you lose one point for each player.
End of Game Achievements
Coming in 5th Place.
Coming in 4th Place.
Coming in 3rd Place.(5)
Coming in 2nd Place.(5)
Coming in 1st Place.(5)
Clarifications
These Rules are open to interpretation but must adhear to the spirit of the league. Call the head judge if you're uncertain of any rulings.
1: This achievement can only be earned once per player per match.
2: This achievement can only be earned once per game and only by combat damage.
3: You can only earn this achievement once per match.
4: This does not include sacrificing your own lands. This is per opponent.
5: For pods containing 3 players, add 1 to each of these point values.
** Learn more about Magic: The Gathering **
– Wizards Account Registration
– Official Magic Website
– The types of Magic Events
– Magic Rules and Formats
– Banned & Restricted Lists
OUTSIDE FOOD & DRINK:
Outside Food and Drink is welcomed. However, due to our Mask Policy if your food or drink would require you to remove your mask completely to consume it then it will need to be taken outside.
RULES QUESTIONS:
At any point in the game, a player may call a judge for assistance with a ruling or interaction. The judge will not be able to issue you any advice about the game state or what decisions you should make.
TRADING:
While trading is fine, please note that buying/selling items with anyone other than Cool Stuff Games staff (or soliciting to do so elsewhere) is against both our rules and the law. Doing so may result in both the buyer and the seller being removed from the property, both being permanently banned from returning and/or the police being notified.
Cool Stuff Games also reserves the right to limit the amount of space being occupied by any one individual while trading, and does not allow the use of suitcases, handcarts, luggage carts, etc. to be used for the purpose of transporting excessive amounts of trade stock.
CODE OF CONDUCT:
All food & drink must be kept off the tables except for where signage says otherwise.
Horseplay, roughhousing, rude/disrespectful/discourteous behavior, and foul language are not permitted.
Report any lost or unattended item(s) to a Cool Stuff Games staff member.
Most importantly, HAVE FUN!
EVENT QUESTIONS & CONCERNS:
Feel free to contact us through Facebook Messenger. We want your experience to be as enjoyable as possible, and will do our best to assist you in any way that we can.
If you have any suggestions on how to make this event more enjoyable, or discover an issue that was not covered, please speak to the Tournament Organizer (TO) or a sales associate in-store, and they'll be happy to assist you.