Yu-Gi-Oh Traditional Double OTS Tournament
When:
02/29/2020 @ 3:00 pm
2020-02-29T15:00:00-05:00
2020-02-29T15:15:00-05:00
Where:
8550 S US Highway 17-92
Maitland, FL 32751
USA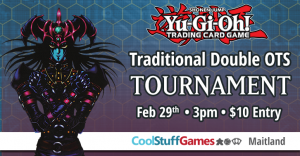 Duelists!
Are you ready to duel? If so then get ready for an awesome challenge to battle it out in this insane showdown! You will be put to the test and the top cut will be walking home with their portion of 2 booster boxes!
Entry: $10.00
Registration: 2:00 PM
Gameplay: 3:00 PM
Format: Traditional
Tournament Structure: Swiss style tournament with rounds based on player attendance.
Minimum Players to Launch Tournament: 8 Players
**Prize support subject to change based on attendance**
** Learn more about Yu-Gi-Oh! **
Official Yu-Gi-Oh! Website: http://www.yugioh-card.com/en/
Official Rule Book: http://www.yugioh-card.com/en/rulebook/index.html
Forbidden & Limited Lists: http://www.yugioh-card.com/en/limited/index.html
Parents Guide: http://www.yugioh-card.com/en/about/parents.html
RULES QUESTIONS: At any point in the game, a player may call a judge for assistance with a ruling or interaction. The judge will not be able to issue you any advice about the game state or what decisions you should make.