Yu-Gi-Oh! Speed Duels Tournament
When:
2019-12-19T19:30:00-05:00
2019-12-19T19:45:00-05:00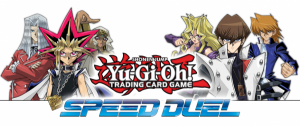 Yu-Gi-Oh! Players!
We are here to welcome a sweet new format to be fully supported by Konami!
Speed Duels takes the fun of the highly played mobile game and brings it to the real world!
Each entrant will add 2 packs to the prize pool and each entrant will recieve a Special Speed Duel OTS pack!
More info about Speed Duels can be found here:
https://www.yugioh-card.com/oc/gameplay/detail.php?id=5618
---
Entry: $5.00
Start Time: 7:30 PM
Format: Speed Duels
Structure: Swiss
---