Pioneer Weekly Tournament
When:
2019-11-16T14:00:00-05:00
2019-11-16T14:15:00-05:00
Where:
Cool Stuff Games - Maitland
Cool Stuff Games Maitland
8550 South US Highway 17-92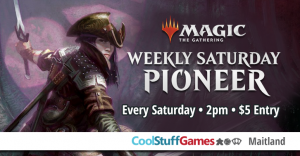 Magic Players!
Wizards of the Coast has created a brand new format.
We are now hosting weekly Pioneer tournaments!
Every Saturday at 2pm we will be holding a Pioneer Tournament.
For each player, 2 packs in prize support will be added to the prize pool.
Learn more about the Pioneer format here.
Registration Opens: 1:00 PM
Gameplay Begins: 2:00 PM
Entry: $5
Format: Pioneer
Prize Support/Structure: 2 Packs per entrant in the prize pool, with a 1 Booster Box minimum; Prize Structure based on attendance
Tournament Structure: Swiss-style tournament with the number of rounds and a top cut based on attendance
Minimum Players Needed: 8