MTG Commander Weekend 2019
When:
08/25/2019 @ 1:00 pm – 5:00 pm
2019-08-25T13:00:00-04:00
2019-08-25T17:00:00-04:00
Where:
Cool Stuff Games - South Orlando
12720 Orange Blossom Trail
Suite 10 Orlando
Florida 32837

Cost:
Entry: $10 ($5 Discount with Pre-constructed Deck Purchase)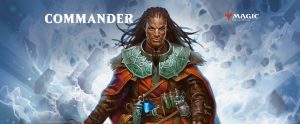 Planeswalkers!
A new year means new Commander Pre-constructed Decks, and we have a special Commander Weekend event for you! For this event, players can choose to bring their own Commander decks or purchase a Commander 2019 Pre-constructed Deck to play in the event.
Players who choose to purchase and use an unaltered Commander 2019 Deck will get a $5 discount on the entry for the event. For this event, any player who uses an unaltered Commander 2019 Deck will be allowed a special rule: "All three legendary creatures are treated as though they have the "Partner" ability ("Partner" allows players to have multiple commanders.) Each commander functions independently, ignoring how many times the other two commanders have been cast."
Players will be randomly placed in pods of 3 to 4 players. Each pod will then battle with each player earning points based on their final result at the end of the game (points examples bellow). After each round, players will be placed into another pod for up to 3 or 4 rounds (based on attendance). After all rounds are complete players will receive prizes based on their total points (with each player being guaranteed at least one booster pack). We will also be raffling off a few Core Set 2020 Promo Packs to all players who attend Commander Weekend. Please come out and join us for this special Commander Weekend Event!
*PLEASE NOTE: We will not be participating in the Achievement Card Promotion!*
Pod Point Example:
1st – 4 Points
2nd – 3 Points
3rd – 2 Points
4th – 1 Points
*Pods of 3 don't award 4th Place point value*
Entry: $10 ($5 Discount with Pre-constructed Deck Purchase)
Registration: 12:00 PM
Gameplay: 1:00 PM
Format: Commander Sealed Deck Variant
Tournament Structure: Pod rounds based on attendance.
Minimum Players to Launch Tournament: 3
Prize Support: 4 Packs per person will be added to the Prize Pool and awarded based on Standings.
*PLEASE NOTE: Playtest cards will not be allowed!*
*PLEASE NOTE: Playtest cards will not be allowed!*
*PLEASE NOTE: Playtest cards will not be allowed!*
*PLEASE NOTE: Playtest cards will not be allowed!*