Magic: the Gathering Throne of Eldraine Open House
When:
10/13/2019 @ 12:00 pm – 2:00 pm
2019-10-13T12:00:00-04:00
2019-10-13T14:00:00-04:00
Where:
Cool Stuff Games - Miami
12550 SW 88th Street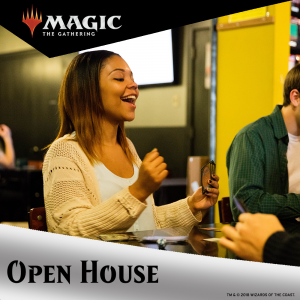 Interested in Magic: the Gathering, but no idea how to play? Look no further! We'll be demoing Magic: the Gathering to anyone interested! Ignite your planewalker spark with us at our upcoming Throne of Eldraine Open House!
Start Time: 1:00 PM
Entry Fee: FREE
Format: Learn-to-Play
---
Learn more about Magic: The Gathering
Official Magic Website: http://www.wizards.com
The types of Magic Events: http://magic.wizards.com/en/events/event-types
Magic Rules and Formats: http://magic.wizards.com/en/game-info/gameplay/rules-and-formats
Learn about Planeswalker Points: http://magic.wizards.com/en/events/resources/planeswalker-points
All food & drink must be kept off the tables except for where signage says otherwise.
Horseplay, roughhousing, rude/disrespectful/discourteous behavior, and foul language are not permitted.
Report any lost or unattended item(s) to a Cool Stuff Games staff member.
Most importantly, HAVE FUN!
EVENT QUESTIONS & CONCERNS: Feel free to contact us through Facebook Message. We want your experience to be as enjoyable as possible, and will do our best to assist you in any way that we can.
If you have any suggestions to make this event more enjoyable, or discover an issue that was not covered, please speak to the Tournament Organizer (TO) or a sales associate in-store, and they'll be happy to assist you.