Dragon Ball Super Series 8 Pre-release
When:
11/16/2019 @ 2:00 pm – 5:00 pm
2019-11-16T14:00:00-05:00
2019-11-16T17:00:00-05:00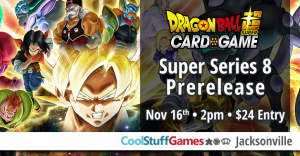 Attention Dragon Ball Players!
The time has come for the Malicious Machinations pre-release.
Each player who buys a pre-release kit will also be eligable to purchase up to 2 booster boxes.
Each booster box comes with 1 pre-release dash pack.
These dash-packs are a pre-release exlusive so get them while you can!
An optional sealed format tournament will be run for players who wish to test their might with the new cards.
More details on the new set can be found here: http://www.dbs-cardgame.com/us-en/event/tournament/series08_pre-release-tournament/
Entry: $24.00.
Start time: 2:00 PM