Dragon Ball Super Celebration 3v3 Sealed Team Tournament
When:
12/21/2019 @ 4:00 pm
2019-12-21T16:00:00-05:00
2019-12-21T16:15:00-05:00
Where:
Cool Stuff Games South Orlando
12720 S.OBT Suite10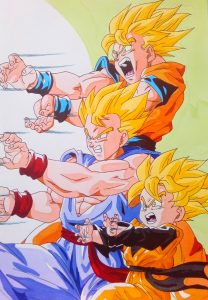 Z warriors!
The Celebration 3v3 Team Tournament is a sealed tournament.
Each player will be given 6 packs and build a 40 card deck with their cards.
This event will be a Best of 1 and the Team that has 2 wins in the match wins the round.
For every four teams who join, the prize pool will increase by one box
Event Start Time: 4:00 PM
Entry: $90 ($30 per player)
Tournament Format: Standard
Tournament Structure: Swiss style tournament with rounds based on player attendance.
For more Info here is a link:
http://www.dbs-cardgame.com/pdf/event/tournament/dbscg-store-celebration_team-tournament.pdf